The Terrace Another view of Wellington as spring unfolds.
Just added a gallery of images from the launch event last night for Unscripted, an exhibition showing off the hidden talents of Wellington's film industry - designers, crew, everyone from runners to drivers to top makeup artists and sculptors.

Sir Richard Taylor and Gino Acevedo welcomed…
Somewhere in there is a photograph of me with Lucire intern Sabine Ernest on her last night in Wellington before returning to California, and two of me with the Mayor and James Nesbitt (your guess: which one is Dr Tom Jackman and which one is Hyde).
As Italian as apple pie Chrysler UK, the people who brought us the facelifted Hillman Avenger and other memorable products, is trying to sell a rebadged Lancia Delta in the UK. This is a screen shot which shows that Chrysler does not care enough to proofread its copy, with the apostrophe used for both a pronoun and a plural. Good luck getting the educated premium buyer, folks.
Meh, frost From yesterday, frost on the deck. Still kind of a sissy snowstorm, as snowstorms go. Unprecedented, yes. Blizzard, no.
Gratuitous K-Gill post Catching up, because I realize I missed a couple of days of these.
(via my-ponchoboys)
Generation f*cked
"The first stirrings of major intergenerational conflict are already being noted. The basic rights of the recent past – a safe job, free education and healthcare, secure homes to raise a family, a modest but comfortable old age – have slipped quietly away, all to be replaced by a myriad of vapid lifestyle choices and glittery consumer trinkets."

Article: Generation F*cked

Fascinating article about Britain's youth.
Great article from Adbusters, in some ways reflecting my own thoughts on the subject, which I had put on my old mayoral campaign fan page on Facebook.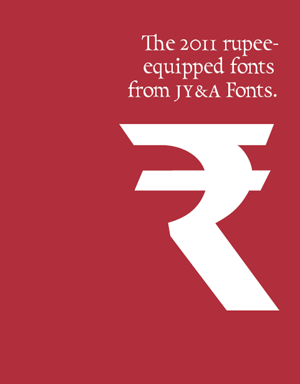 Nine of JY&A Fonts' families now have the rupee symbol. We're not quite the first—an open source family beat us to it—but we're among the first. The Unicode folks only announced the keyboard shortcut for Indian users last month, so I look forward to seeing my rupee symbols in action soon!
Thank goodness, no Marky Mark I only got as far as Escape from the Planet of the Apes in the original series, so while this doesn't fit into the originals' continuity, Rise of the Planet of the Apes kind of continues where I had left off. I have to admit it looks pretty good.
Diane Lane on The Late Late Show Man, I used to have a crush on Diane Lane. Probably still do.